Health Exchanges See Rush of Last-Minute Shoppers , Wall Street Journal
December 26, 2013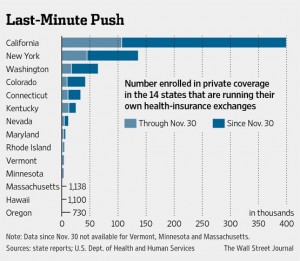 A last-minute rush of customers helped new health-insurance exchanges boost enrollment this week, and many states extended deadlines to accommodate stragglers, writes Peter Landers.
This chart shows the influx of shoppers since Nov. 30 in the 14 states running their own exchanges. In Washington state, nearly a third of the 65,472 people who signed up for private health plans through Monday did so in the final four days. Connecticut had 6,700 enrollees on Monday, a new single-day high for the state. In California, officials said Monday, 77,000 people picked a private insurance plan in the state between Friday and Sunday – nearly one-fifth of the roughly 400,000 people who have enrolled in private coverage so far, according to state figures.
While updated enrollment data on the federal exchange won't be available until mid-January, federal officials said HealthCare.gov received two million visits on Monday. On the evening of Dec. 24, a message was posted on the federal site that people who "might have run into delays" and missed the deadline should contact a call center.
"We still may be able to help you get covered as soon as January 1," it said.
The federal site serves 36 states.
Among the states that extended their enrollment deadline, Massachusetts, Minnesota and Rhode Island said residents could sign up as late as New Year's Eve for coverage starting Jan. 1.